INCI: Cetearyl Alcohol, Behentrimonium Chloride
Kostol TMC-25 is a plant based, cationic oil-in-water emulsifier designed for both hair and skin care formulation. Developing emulsions with cationic systems offers better adhesion to hair and skin. In hair care, it will also provide conditioning, detangling, static control and frizz reduction. In skin care, this emulsifier offers skin conditioning with a silky, non-greasy after-feel. In each case, Kostol TMC-25 will emulsify and thicken your system. This is a 25% active quaternary ammonium compound that forms mild cationic emulsions.
Kostol TMC-25 is unique as it has been created without volatile materials like other behentrimonium chloride emulsifiers you may find on the market. The removal of flammable and volatile content ensures safety in the lab, production, and reduces regulatory issues for markets that prohibit these additives.
Applications
Kostol TMC-25 is a versatile emulsifier that can be used in both hair and skin care for leave-on and wash-off applications including the following:
Key Features & Benefits
Emulsification
Thickening
Conditioning
Anti-Static Agent
Detangling
Sulfate-Free Claim
Frizz Control
PEG-Free
RSPO
Clean Beauty
Approved for use* with leading brands including but not limited to:
Clean at Sephora
Credo Beauty
Whole Foods Premium Body Care
*At time of publication
Product Characteristics
INCI: Cetearyl Alcohol (and) Behentrimonium Chloride
Typical Usage Levels: 1-10%
Form: White Pastille
Active Level: 25%
Package: 25KG Box
Formulation Guidelines
There are some key points to remember when formulating with cationic emulsifiers. Cationic chemistry is typically incompatible with anionic products. They are characteristically not compatible with certain acrylate copolymers, xanthan gums and CMC thickeners as well as other anionic products. Keep in mind the active content as you formulate both leave-on and wash-off products and coordinate with your regulatory team for the rules based on the country of distribution.
Suggested Use Levels
Wash-Off Systems: 2.0 – 10.0%
Leave-On Systems: 0.5 – 8.0%
Formula: #2/20-10013/358-4
Intense, sulfate-free conditioning mask
With Orange Wax for emolliency and shine
Leaves hair soft, supple and shiny
Ingredient Trade Name
INCI Name
%
Phase A
Deionized Water
Aqua
70.5
Jaguar C-172
Guar Hydroxypropyltrimonium Chloride
0.5
Glycerin
Glycerin
5.0
Optiphen ND3
Phenoxyethanol, Benzoic Acid, Dehydroacetic Acid
1.0
Phase B
Kostol TMC-251
Cetearyl Alcohol (and) Behentrimonium Chloride
8.0
Kester Wax K-241
Lauryl Laurate
6.0
Kester Wax K-481
Cetyl Palmitate
4.0
Orange Wax1
Citrus Aurantis (Orange) Peel Wax
1.0
Hemp Seed Oil4
Cannabis Sativa (Hemp) Seed Oil
4.0
Product
Function
About
% Usage
Natural
Kostol TMC-25
O/W Emulsifier
Sulfate-Free, cationic emulsifier manufactured without IPA. Exceptional anti-static agent, conditioner with deposition properties.
0.5-8%
Kester Wax K-24
Ester, Emollient
Natural ester and emollient that imparts slip, melts at body temp, offers slight cooling sensation. Provides light, dry, feel. Cuts greasiness with natural oils, esters and organic sunscreens.
1-50%
X
Orange Wax
Emollient
Emollient that provides a unique scent and color, adds interest to the label and
energy in the formula
0.5-10%
X
Procedure
Begin heating water to 80 °C and add Phase A ingredients one by one, mixing each until uniform.
Combine Phase B ingredients, and heat to 80 – 85 °C until melted.
Add Phase B to Phase A under agitation and mix at high speed until emulsion is uniform.
Check pH and adjust to 4-5 as necessary.
Cool to 45 °C or under and pour into containers.
Stability information: Three months at 45 °C, three months at room temperature, three freeze/thaw cycles.
Supplier information: 1. Koster Keunen, Inc.; 2. Maroon, 3. Brenntag Specialties; 4. Integrity Ingredients.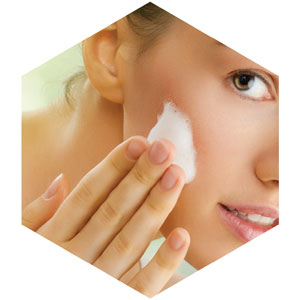 Behentrimonium Chloride
vs
Behentrimonium Methosulfate
Formulators who need to replace a cationic conditioner for an approved INCI nomenclature can count on Koster Keunen. Using Kostol TMC-25 supports marketing requirements on the INCI declaration, without substantial changes to your formulation or its performance. Our laboratory results show that 1:1 replacement in all tested formulas, were equivalent in rheology profiles and performance.
Sensory Evaluation In Formulation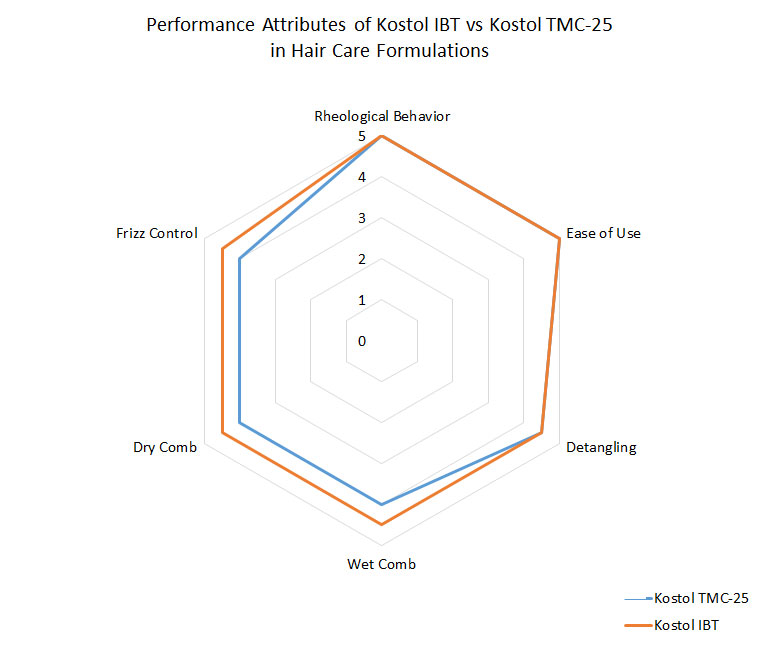 Rheology Evaluation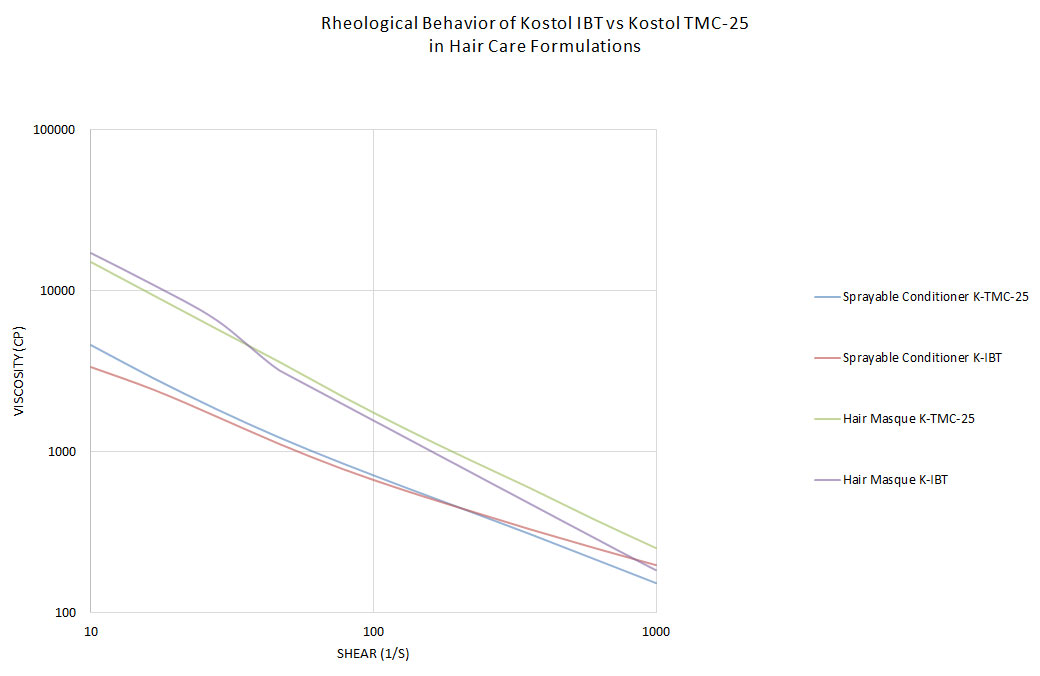 Conclusion
Laboratory evaluations show that in multiple formulations, Kostol TMC-25 (Behentrimonium Chloride) is equivalent when replacing Behentrimonium Methosulfate in formulas at a 1:1 ratio.
Reviewing Volatile Content In Quaternary Emulsifiers
Koster Keunen's' research team evaluated other cationic systems to compare them with Kostol TMC-25. A laboratory study done on TMC-25 vs other cationic emulsifiers show Kostol TMC-25 does not contain IPA or other volatile materials that are found in other similarly manufactured industry options. The proprietary process to remove volatiles materials allows for better safety in the laboratory and production. Laboratory evaluations also show in multiple formulations, Kostol TMC-25 is functionally equivalent without the volatile to other products with the same INCI name.
| | | | |
| --- | --- | --- | --- |
| Study | Experiment | Kostol TMC-25 | Alternate MFGs |
| Volatile ontent* | Weight loss at 90 °C | <1% | 7% |
*likely Isopropyl Alcohol (IPA)
Koster Keunen Offers a Range of Cationic Emulsifiers for All of Your Formulation Requirements.
Contact Us Today for Further Information.