The SynKos Wax Series is comprised of white, synthetic waxes with unique gelling and texturing capabilities. SynKos waxes are synthetic hydrocarbon polymers manufactured by GTL (gas-to-liquid) technology from natural gas. They can function like petroleum-based hydrocarbons, while being more consistent and offering a lower cost.
SynKos Waxes are used as gelling agents, thickeners, viscosity modifiers, and barriers. They are also used to modify hardness, slip and melting point. These products have compatibility with all cosmetic systems, including; vegetable oils, esters, and low viscosity fluids like cyclomethicone and isododecane. Look for our gel data on the following cosmetic fluids to get the gel that is best for each system.
C12-15 Alkyl Benzoate
Caprylic Capric Triglycerides
Castor Oil
Cyclopentasiloxane
Isododecane
Isononyl Isononanoate
Isopropyl Palmitate
Mineral Oil
Sunflower Oil
Trioctyldodecyl Citrate
SynKos Waxes offer the formulator another choice of chemistry and INCI designation from both petrochemical waxes and polyethylene. INCI Name: Synthetic Wax Manufactured: Watertown, Connecticut, USA Usage Levels: 1-50%
Each SynKos wax has its own chemistry and therefore different gel strengths in cosmetic fluids, esters and oils. They also have distinct melt points. Formulators should analyze the chemistries in their project and review provided gel data. The congeal points of each wax will also help determine which SynKos is right for each formula.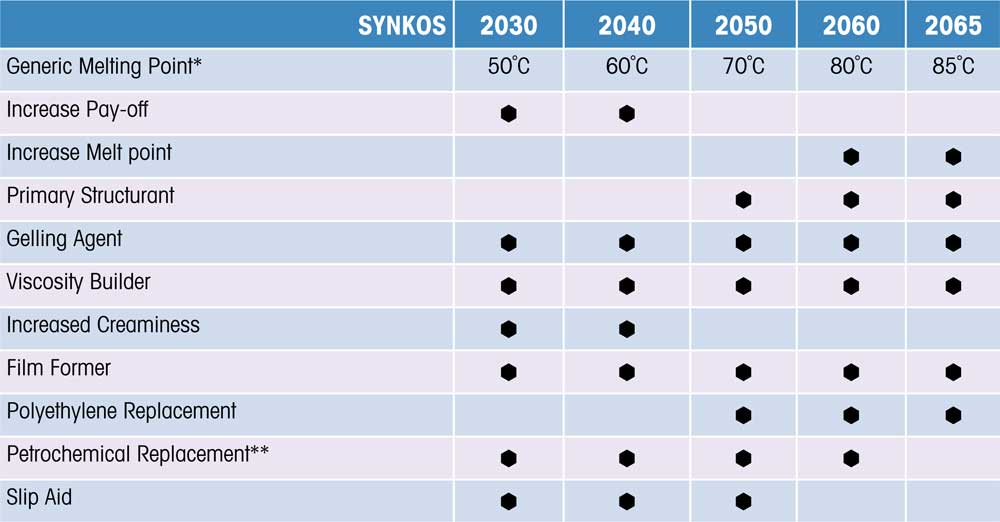 The SynKos Wax Series is both compatible and versatile; therefore it can be used in a multitude of formulas including the following:
COLOR COSMETICS Lipsticks Anhydrous Systems Lip Balms Sticks Eyeliner Mascara Foundation & Concealer Multi-Use Products
SKIN CARE Creams AP/DEO Lotions SPF Products Balms Emulsions Ointments Multi-Use Products
HAIR CARE Styling Products Pomades

INNOVATION IS OUR TRADITION