Koster Keunen has partnered with Dynamic Energy and launched a solar panel project that will generate over a million kWh of energy and offset 891 tons of carbon emissions in the first year.
Dynamic Energy has installed 2,520 individual solar panels that produce 894,600 watts of clean solar power and provide approximately 88 percent of Koster Keunen's annual electricity needs directly from sunlight.
Based on the Environmental Protection Agency's carbon calculator, the carbon dioxide reduction from this project will be the same as removing 173 passenger cars from the roadways for one year. Most of the panels will be installed on the roof of Koster Keunen's Watertown facility, with some additional panels being ground-mounted in the rear of the property.
The project is being completed with support from Connecticut's Zero-Emission Renewable Energy Credit (ZREC) program.
Koster Keunen President John Koster is looking forward to more than reducing the company's carbon footprint. "We are really excited to make this our first major investment into our 2020 green initiative," he said. "Clean energy is the future. We are thrilled to be part of the movement and we thank Dynamic Energy and the state of Connecticut for assisting us in this important effort."
"We congratulate and are excited to assist Koster Keunen on its first solar project," said Brett Thibodeau, president, and COO of Dynamic Energy. "This system will power Koster Keunen's world-class facility for years to come – clearly demonstrating the company's commitment to clean energy for its employees, customers, and community."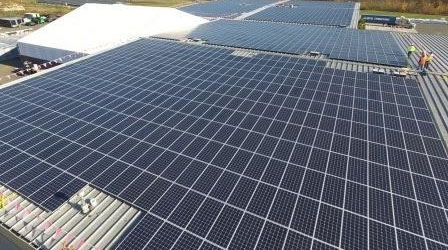 About Koster Keunen
Koster Keunen has been working with wax since 1852 and has used our extensive experience and knowledge base to continuously develop new chemistries. Whether you are developing a new product, or need help with a reformulation or replacement, contact us to learn more about how we source, refine or develop waxes so you can create the perfect formula.