Formulating personal care products demands attention to the finest details, and the end results must match the required esthetic while being stable and pleasurable to use. Choosing Kester Wax K-48 for your system offers superior opacity for all your bright white formulation needs.
Reliable Results – Flexible Formulation
Whether you are working toward a traditional formula, a natural or vegan product, Kester Wax K-48 provides a rich white color base for the final product. A plant-derived, long-chain ester, Kester Wax K-48 has proven its mettle when compared head-to-head to cetyl alcohol (a commonly used opacifier that adds thickness-even if not required) in both a mass-market hair conditioner formula and in a high-end, all-natural face cleanser formulation.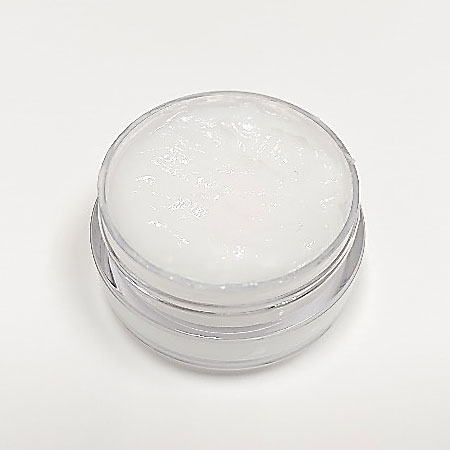 Conditioner with Cetyl Alcohol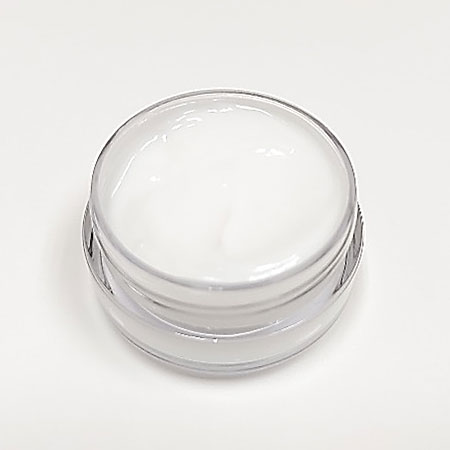 Conditioner with Kester Wax K-48
In both cases, the Kester Wax K-48 provided a truer white color without affecting the viscosity. An added bonus, it provides better slip and bounce over the same formula with cetyl alcohol.
Opacity in Anhydrous or Emulsion Systems
Looking for an opacifier that will do double-duty in the lab? This one product can go from anhydrous, to emulsions to body washes. In anhydrous systems, Kester Wax K-48 is highly compatible with standard carrier oils, and gives a rich, solid look to both pigmented and unpigmented products. In lotions, creams, and surfactant emulsions, it acts as an opacifier and supports consistency. In all cases, the opaque emollient creates luxurious texture while supporting the system. Kester Wax K-48 is a multi-tasking ester that manages to provide consistency and bright white formulas without affecting the overall thickness or texture of the system as shown in these example formulas.
Natural Daily Hand Lotion
Formula # 11/20-577/358-5
Natural Daily Hand Lotion combines the appeal of natural formulation with luxurious texture. In this formula, Kester Wax K-48 not only acts as a superior opacifier, providing the desirable rich, white color, it also contributes emollient properties, leading to a lotion that feels good and performs consistently.
Ingredient Name
INCI Name
%
Phase A
Deionized Water
Aqua
78.2
Glycerin
Glycerin
4.0
Keltrol CG-SFT
Xanthan Gum
0.4
NaOH 10%
Sodium Hydroxide
0.4*
Optiphen ND
Phenoxyethanol, Benzoic Acid, Dehydroacetic Acid
1.0
Phase B
Kostol NatureMuls
Candelilla/Jojoba/Rice Bran Polyglyceryl-3 Esters, Glyceryl Stearate, Cetearyl Alcohol, Sodium Stearoyl Lactylate
5.0
Kester Wax K-48
Cetyl Palmitate
3.0
Kester Wax K-24
Lauryl Laurate
5.0
Jeechem CTG
Caprylyc/Capric Triglyceride
3.0
Double-Cream Luxury Cleanser
Formula # 7/20-414/120-5
The versatility of Kester Wax K-48 comes into focus in Double-Cream Luxury Cleanser. Kester Wax K-48 does triple-duty, acting as an emollient, deluxe opacity, and body. And it does all of this within a natural formula, allowing the use of a face cleanser with a luxurious feel to create a doubly positive experience.
Ingredient Name
INCI Name
%
Phase A
Deionized Water
Aqua
52.1
Glycerin
Glycerin
4.5
Plantaren 1200 N UP
Lauryl Glucoside
15.0
Plantaren 818 UP
Coco-Glucoside
15.0
Phase B
Kostol Natural E
Behenyl Alcohol, Polyglyceril-3 Stearate
5.0
Kester Wax K-48
Cetyl Palmitate
7.5
Aromatic Calendula Extract Blend
Calendula Officinalis Extract
0.1
Phase C
Citric Acid
Citric Acid
0.2*
Optiphen ND
Phenoxyethanol, Benzoic Acid, Dehydroacetic Acid
0.6
*check pH, adjust with citric acid to 5-6.5
Traditional Hair Conditioner
Formula # 2/21-10013/120-2
When you consider formulations that consumers use regularly, an uber-white hair conditioner is high on the list. Kester Wax K-48 contributes to systems that fit this description with ease and agility. It combines high compatibility with a wide variety of oils with excellent emollient and opacifying properties to make a common product high-end looking.
Ingredient Name
INCI Name
%
Phase A
Deionized Water
Aqua
74.35
Disodium EDTA
Disodium EDTA
0.05
Optiphen
Phenoxyethanol, Caprylyl Glycol
1.0
Glycerin
Glycerin
5.0
Citric Acid
Citric Acid
0.6*
Phase B
Kostol TMC-25
Cetearyl Alcohol, Behentrimonium Chloride
6.0
Kester Wax K-48
Cetyl Palmitate
3.0
AR Cocoa Butter
Theobroma Cacao (Cocoa) Seed Butter
1.0
Cetyl Alcohol
Cetyl Alcohol
3.0
Schercodine S
Stearamidopropyl Dimethylamine
2.0
Belsil DM 100
Dimethicone
4.0
When formulating products for the discerning cosmetics consumer, texture, feel, and look all contribute to product success. Kester Wax K-48 is a versatile ester wax that can provide a variety of positive attributes to your anhydrous systems. Whether you are looking for a stable opacifier, or highly compatible emollient, contact us to discuss your formulation needs. We would be happy to help you to find the right wax products for your system.
About Koster Keunen
Koster Keunen has been working with wax since 1852 and has used our extensive experience and knowledge base to continuously develop new chemistries. Whether you are developing a new product, or need help with a reformulation or replacement, contact us to learn more about how we source, refine or develop waxes so you can create the perfect formula.