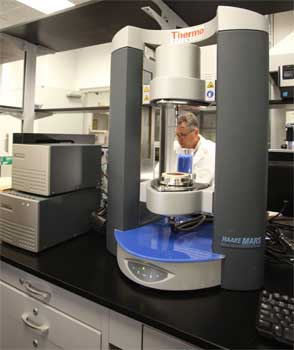 Koster Keunen's chemists create new beeswax substitutes and alternatives to be more versatile than traditional waxes. This means that we can meet your products changing property requirements so that you may better serve your customers.
New Waxes to Improve Your Product's Properties

Visit our Research and Development Laboratory in Watertown, CT. See how we develop wax formulas to help you enhance your products.
We employ pioneering chemists and invest in the latest equipment. This is to guarantee that we can develop the "just right" wax or combination of waxes for blends to enhance personal care cosmetics, inks, pharmaceutical and food products and household products. And this is why formulators, chemists, purchasing agents and industry buyers bring their product chemistry challenges to us.
We introduced the first commercially available beeswax esters, because we were the first natural wax company to purchase a Sandvik Pastillator for prilling beeswax. By introducing sustainable Kester Waxes that mimic the physical and chemical properties of non-renewable petrochemical and mineral-based raw materials, we achieve these specific results:
Improved beeswax for specific applications
New applications for natural waxes
Alternatives for petroleum waxes
Improved compatibility with cosmetic ingredients
Efficient gelling agents for oils difficult to gel
Lower wax concentrations
Improved stability